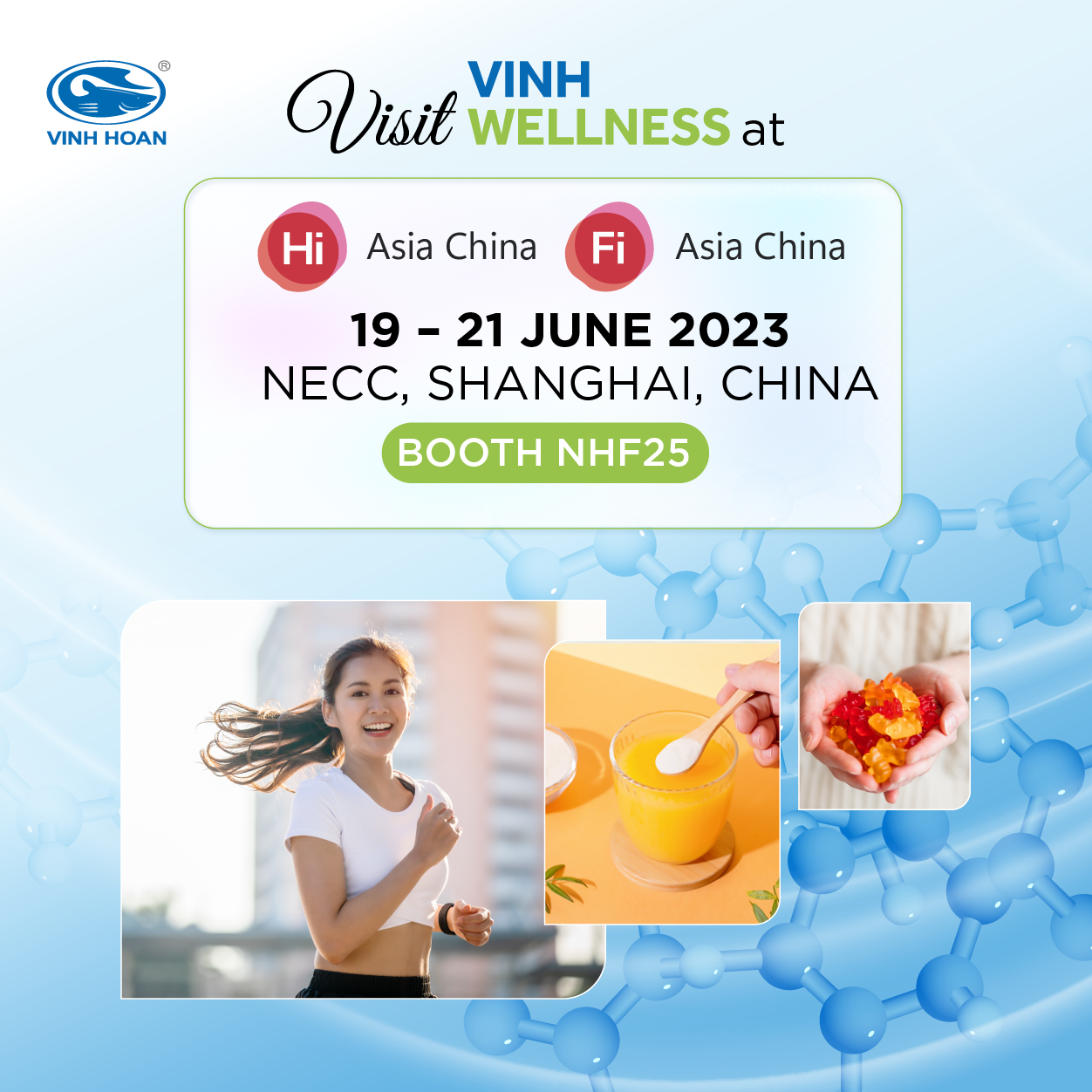 Get ready for Hi – Fi Asia China 2023, the premier event that brings together the best of the food and beverage industry in China. VINH WELLNESS will attend this event as the next generation of marine collagen peptides and gelatin. We promise to bring valuable solutions from our single-sourced freshwater collagen peptides and gelatin suitable for your healthy food & beverage products. 
We are looking forward to your visit:   
Booth: NHF25 

 

Date:  19 – 21 June 2023

 
Place: NECC, Shanghai, China

 
Transforming the Chinese Market with Our Innovative Health and Wellness Solution 
Healthy Aging:

As of 2021, China's elderly population aged 60 and above is expected to reach 270 million, comprising 18.9% of the total population. This demographic shift has led to an ever-increasing demand for healthy food and nutrition. With outstanding properties, Vinh Wellness collagen peptides and gelatin are excellent sources for the healthy-aging applications.

 
>> Collagen supplements: The Benefits of Collagen through Menopause
>> Tasty solutions to nutrition for elders with collagen
>> Beauty from within:  Collagen powder supplements for youthful and healthy skin 
Sports Nutrition:

Chinese consumers are increasingly becoming more health and fitness conscious at a rapid rate. The sports nutrition market in China is rapidly growing. The US is currently the largest nutritional products market in the world, but China may soon occupy this position thanks to rising health awareness among the mainland population and the country's growing per capita GDP.

 

Explore the significance of collagen peptides in an active lifestyle and how they can boost recovery efficiency and improve sports performance.

 
>> Improving sports performance with collagen supplements
>> Personalized Nutrition with Collagen: 5 Innovative Solutions for Your Products 
Don't miss out on the chance to: 
Discover Our Premium Products:

Explore the diverse world of fish collagen and gelatin with our wide range of offerings, tailored to meet industry requirements.

 

Explore New Applications:

we showcase their exciting applications and formulations across diverse industries like food and beverage, cosmetics, pharmaceuticals, and beyond.

 

Discuss Collaboration Opportunities:

Discuss the tailored collaborations, partnerships, and customized solutions to meet your unique business need

 
We'd love to see you among us at Hi – Fi ASIA CHINA 2023
Mark Your 2023 Calendar for International Tradeshows with Vinh Wellness!